HOW DOES THE XCENTRIC CRUSHER BUCKET WORK?
The Xcentric Crusher is a consistent quality and high performance crusher bucket, for rock crushing and recycling of materials. Built in HARDOX 400. Solid, durable, characterized by the recognizable clean lines designed to resist wear and high stresses in the toughest working conditions. Its versatility allows the use of this attachment in a variety of processes such as the reduction of use of heavy duty mechanical vehicles and the number of operators. The demolition materials can be reused directly on site with these crusher buckets, thus reducing transport costs, and recycling in respect of the environment.
Its Patented technology, applies a high inertia power train and a circular jaw movement, in addition to the new and simple antiestagnation plate. Furthermore the granulometry adjustment system is simple and fast. The crushing jaws are placed in a crossed position, which together with its circular motion, gives the Xcentric Crusher the faculty of grinding wet material without compacting effect.
We have 2 series of this accessory: series 'E' and series 'A'. And we also have a front crusher for small machines: the XC5F. At the section called benefits you can read all the advantages of each series.
For all this, the first series of XC, series 'E' was awarded at the Smopyc 2017 Fair in Zaragoza, with the "Accésit Smopyc" prize in the "Innovation on equipment, components and auxiliary resources" contest.
Series 'E' has the next models: XC15, XC17, XC20 and XC30. The models of the series 'A' are: XC8, XC9, XC13, XC19, XC21, XC24 and XC29.
To watch VIDEOS of the Xcentric Crusher on our YouTube channel, CLICK HERE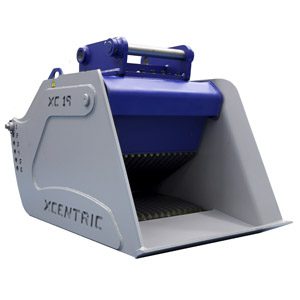 Photos of the Xcentric Crusher bucket working