WHAT ADVANTAGES DOES WORKING WITH THE XCENTRIC CRUSHER BUCKET HAVE?
High performance: in rock crushing and material recycling.

Higher profitability

than mobile crushers.

Minimum maintenance: 50 hour greasing intervals.
80% less consumables parts than conventional crusher buckets. No Toggles, No Springs, etc.
High inertia power train: 2 engines that give the necessary power to start full and in closed position.
Isolating jaw movement (PATENTED): ensures the material is crushed without compacting effect and giving greater production than conventional crusher buckets.
Anti-stagnation plate: innovative and simple (PATENTED). Continuously pushes the material preventing it from getting traversed or blocked, and directing it towards the outlet.
Simple and fast granulometry adjustment system: Allows adjustment of output size en less than 2 minutes , giving you an output product of 20mm to 210mm. (according to models)
Anti-skid Transmission: Higher production, less jams.
Wet material crushing: thanks to the Cross Top Jaws and its circular motion.
Double Effect: Double Effect Hydraulic System allows operators to simply reverse the crushing movement in the event of a product jam, without having to empty content.
Design:
Inertia wheels are placed inside and protected by the housing.
Cantilevered loading mouth: it avoids wear and fracture, also favouring loading and protecting the sides of the attachment.
Manufactured in Hardox 400: from the Swiss supplier SSAB. Maximum quality and resistance to wear (flexibility).
Cross top jaws: the movable jaw "bites" the wet material and along with the circular movement drags it towards the exit mouth.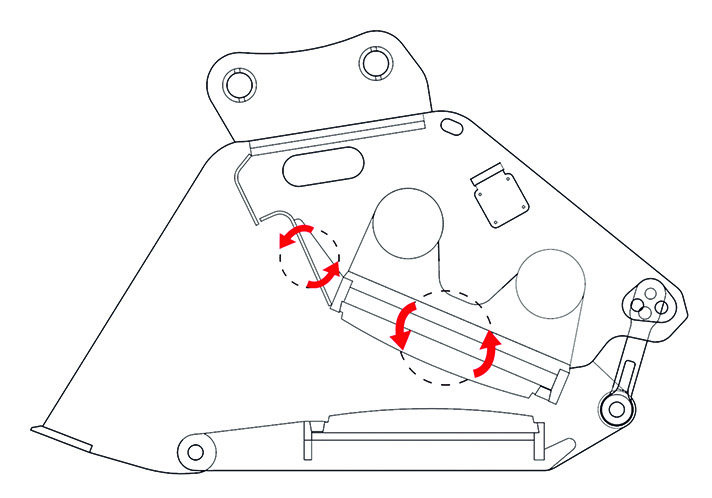 WHAT BENEFITS DOES THE XCENTRIC CRUSHER 'A' SERIES HAVE?
New kinematics, new jaw movement, which achieves high production rates and has significantly reduced stagnation, requiring less power supplied by the excavator.

More precise and simple granulometry adjustment, and with a greater range of possibilities. It reduces the time the operator needs to adjust output sizes.

It does not generate waste.

Redesigned power train, unstoppable.

It requires less power supplied by the excavator when working, so it consumes less and pollutes less.

The entire hydraulic system has been redesigned, protecting the machine against errors when installing in different excavators.

The replacement of the jaws in case of wear is very easy, since the bucket can be opened completely to perform this operation.
In some cases, depending on the material, sand can be obtained as the final result.

Made entirely of HARDOX 400.

Clean design without fairings.

The flow control valve makes the equipment easily interchangeable between excavators, with very low risk of failure due to poor hydraulic adjustment.
WHAT ADVANTAGES DOES THE XC5F MODEL HAVE?
For small machines: skid steers, telehandlers and backhoes. -> Watch video

Unquestionably profitable production volumes.

New system of dumpers: very important acoustic reduction.

Direct drive of the hydraulic motor: reduces mechanisms.

Minimum and easy maintenance.

Input capacity for big material.

Fast and efficient change of granulometry.

It supports crushing in 2 directions: "forward" and "reverse".

Very careful structural design.

Very fast and easy jaw replacement.