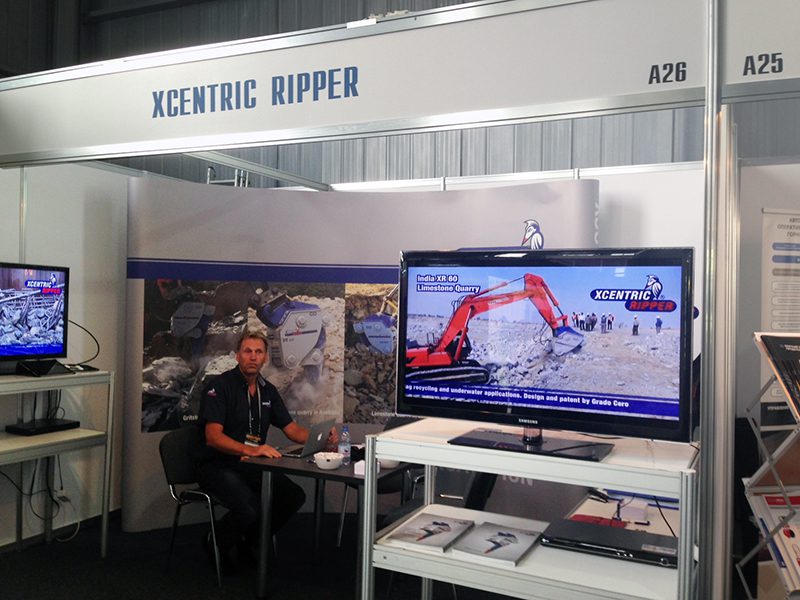 Xcentric Ripper International awarded
<h3>Xcentric Ripper International awarded for strong participation in Mining World Central Asia 2013</h3>
From the 18th till the 20th of September the yearly "Mining World Central Asia" exhibition was held for the 19th time in Almaty-Kazakhstan. On this exhibition our "Xcentric Ripper" was introduced for the first time in this important part of the world with great succes. Many mining, oil &amp; gas and construction companies were positively surprised and enthousiastic about the Xcentric Ripper's performance and environmental-friendly technology to extract the rock material. Especially the Kazakhstan government is very interested in new rock extracting technologies for mining their countless recources without making damage to the nature and the people. A great future is promised for our advanced product and the first discussion with major companies have started for several projects, where the "Xcentric Ripper" could do a great job.
<img class="alignnone size-medium wp-image-531″ src="https://xcentricripper.com/wp-content/uploads/2018/08/kazachstan-02-225×300.jpg" alt="" width="225″ height="300″ /><img class="alignnone size-medium wp-image-530″ src="https://xcentricripper.com/wp-content/uploads/2018/08/kazachstan-01-300×225.jpg" alt="" width="300″ height="225″ /> <img class="alignnone size-medium wp-image-532″ src="https://xcentricripper.com/wp-content/uploads/2018/08/kazachstan-03-300×225.jpg" alt="" width="300″ height="225″ /> <img class="alignnone size-medium wp-image-533″ src="https://xcentricripper.com/wp-content/uploads/2018/08/kazachstan-04-300×225.jpg" alt="" width="300″ height="225″ />