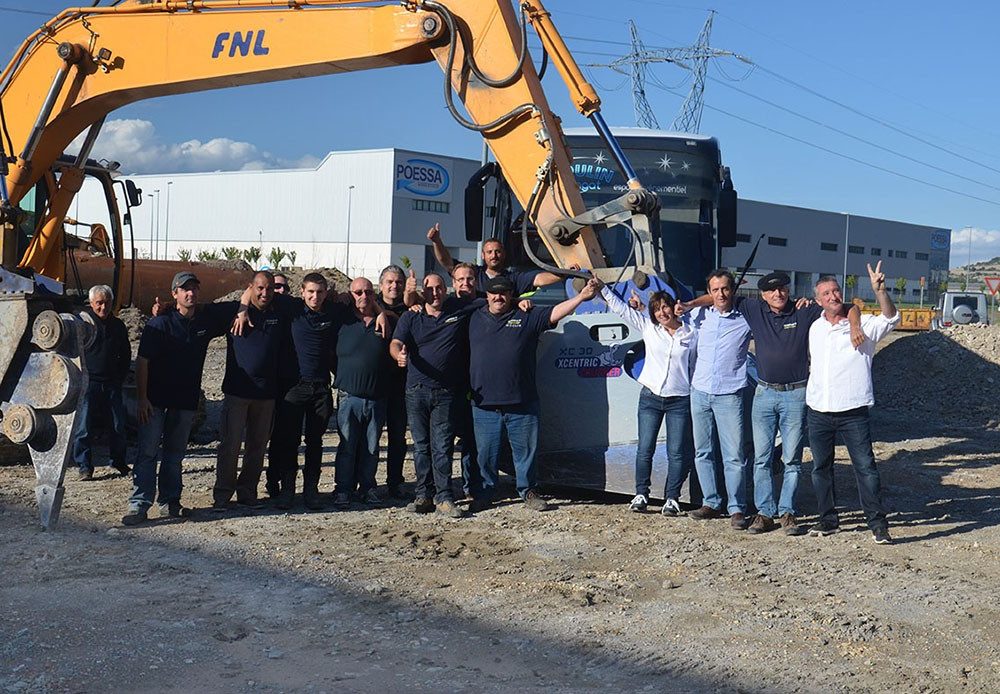 TECHNIQUE-TP FORUM VISITS OUR FACTORY
Some members of the Technique-TP Forum visited our factory, and we also made a demo-training with the Xcentric Ripper and the Xcentric Crusher.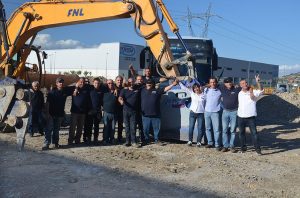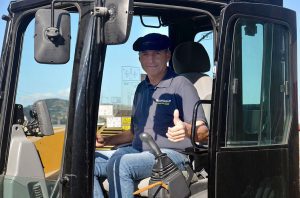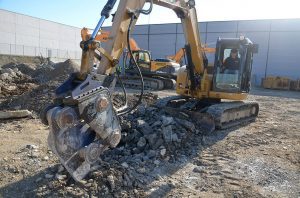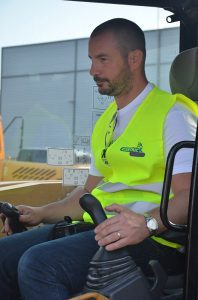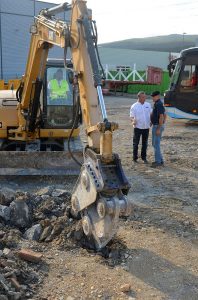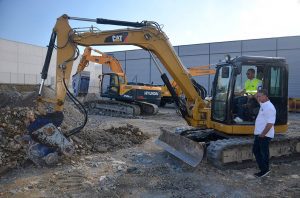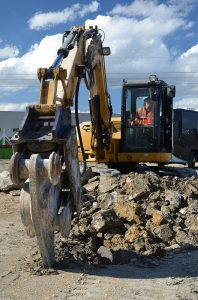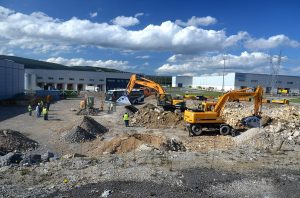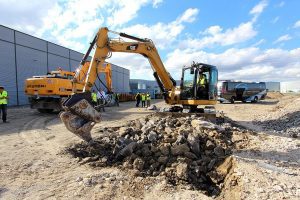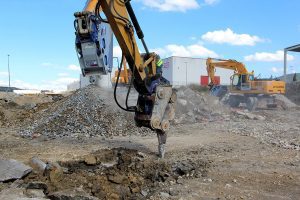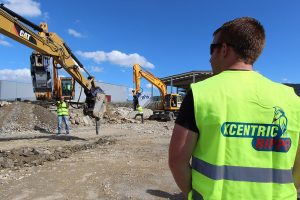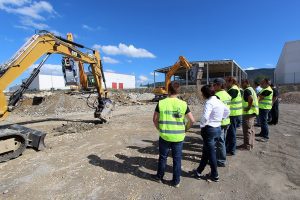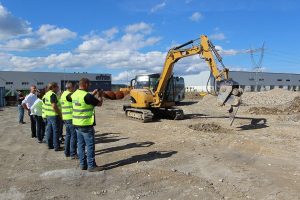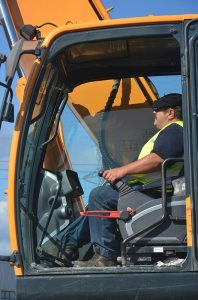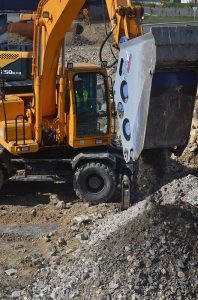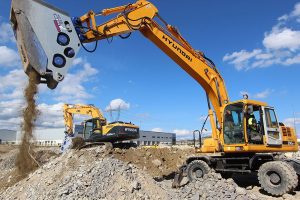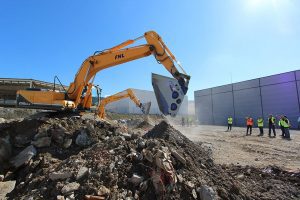 On occasion of the visit to the factory of about twenty members of the Technique-TP forum, we had the pleasure to discuss with the head of the Association, Hervé Prenat said "EXCA" to learn more about this community of passionate, about their professional point of view on the Xcentric products.
:: Tell us about the " Forum Technique-TP ", what is it exactly?
Hervé Prenat "EXCA" : The forum was created in 2012 by a small team of friends, all professionals and enthusiasts of Public Works, with the desire to share information, photos and experiences. The topics are very diverse, such as construction sites, businesses, occupation and of course the material which is our main focus.
From the outset, we decided to restrict access to the forum only to Public Works professionals to ensure the quality of exchanges. Our members come from this world and consist of students, operators, foremen, contractors, retirees or even employees of equipment manufacturers.
The community has grown rapidly since we are now 1080 registered members and have 1,500 visits per day. Thereafter, to relay our content on social networks, a Facebook page was created, it brings together over 3,300 people today. We are also present on Twitter and YouTube …
All these people talking peacefully, with respect and friendliness, this is something dear to our heart. We chose to create a framed Association to allow us to go beyond mere discussion forum.
:: Precisely, beyond discussions on the internet, which activities has your association?
By extension, it was essential to provide group outings, to participate in key events such as Intermat or factory tours. We try to make at least two trips a year. On these occasions, we attach great importance on the equipment testing, a great way to expand our knowledge and facilitate advice and choice when making a purchase of machinery or equipment.
With this experience, we organized a show trial in 2014 during a trade show (VIABON) where we offered visitors the opportunity to test the equipment. Thanks to Florent Gerland, Xcentric France President, we have been able to provide a Xcentric Ripper at this event.
Subsequently, our experience was appreciated by the press, some of us write articles for Le Moniteur, French magazine with a large circulation, and we became partners TP & Facilities magazine for which we offer our experts point of view, independently of the equipment.
Finally, there are times when equipment brands require us to test a preview of their machinery or equipment, to take advantage of our experience and our advice. It is very rewarding for our members.
:: Why did you choose Xcentric factory among the first?
The first reason is our taste for innovation. We are technicians who like latest developments, which is why we got very early interested in Xcentric Ripper. We were among the first to speak on our forum and share photos, we must say that by its unique design, the Xcentric Ripper does not go unnoticed.
For 3 years we follow the evolution of the brand and we are convinced of the usefulness of this equipment, Xcentric created a new segment which does not always replace other equipment, but provides a new and effective response to many issues. We believe on the success of this tool and the preponderance it will held in public works in the future.
The second motivation is that we wanted to visit a factory in Spain to show members what this country can offer in terms of advanced technology and know-how. All of our members who participated in this event was won over by the quality of manufacture of tools, the modernity of the factory and qualification of personnel.
In addition, the availability of employees and officers of Xcentric has overwhelmed us. Javier Aracama was very available and technical exchanges were very dense. It's quite amazing to see the "big boss" able to drive a machine, talk about welding on the production line, discuss land issues, knowing he designs its tools and manages a global company …
:: You could try the XC20 and XC30 Xcentric Crusher as well as a Ripper XR10, what have your members thought about it?
We were very excited to try the crusher buckets, to see their bowels where the mechanics are worthy of watchmaking, to ascertain their real effectiveness, but clearly the star was the Xcentric Ripper.
The demo site only allowed the use of the smaller ripper of the range, the XR10, but he has already shown his muscles. On a terrain entirely adequate, it has proven its worth over more traditional solutions such as hydraulic hammer. Within minutes, we had a wide and deep trench across a thick layer of rock. For those who saw it for the first time in action, it was a pleasure to see how the promises of efficiency are fulfilled. Many members now want to see a big ripper type XR80 or XR120 because it must be impressive.
Finally, our group was very happy to see what Grado Cero is capable of. Understanding the philosophy of the group, the desire to make innovation and each product's reliability, for buckets, attachments, crusher bucket or Xcentric Ripper. It was very interesting to discover all this.
We were well received and convinced of the quality of your products, I would not be surprised that many of our members are fitted with Xcentric products in the coming months.
:: A final word?
Thanks to the French staff for inviting and joining us throughout the day and thank you to the Xcentric team of Vitoria for their welcome. This was an exceptional journey for us all.
Link: